IÉSEG and its Center of excellence for Organizational Responsibility (ICOR) awarded the 3rd ICOR Award on March 13, 2018. This prize recognizes the best Master's thesis by an IÉSEG student in the fields of organizational ethics, social responsibility and sustainability—in line with IÉSEG's 2025 Vision "to empower changemakers for a better society".
IÉSEG professors, who are members of ICOR, evaluated 17 theses this year in order to select the three finalists (in terms of academic criteria). These were then judged by a panel of external experts: Isabelle Anton, CSR Director at IDKids; Joséphine Biernacki, CSR Manager at Damartex; and Antoine Charlanne, Head of Strategy and Digital Transformation at Caisse d'Epargne.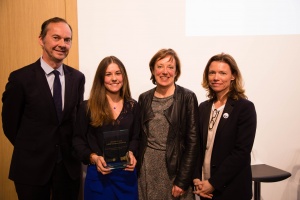 Domitille Adrian received the ICOR Award for her thesis on the topic: Is the Social Impact Bond adaptable to France? (thesis director: Professor Yulia Titova). She received a prize of €2,000: €1000 for herself and €1000 for a non-profit organization or a social enterprise of her choice. She chose to donate this to the association Les petits frères des pauvres, which assists people over 50 years old who suffer from solitude, poverty, exclusion, and serious illnesses.
(Photo, from left to right: Nicolas Delnatte, Domitille Adrian, Joséphine Biernacki, and Isabelle Anton)
The runners-up were Béatrice Richard for her thesis on "Multiple accountability in NGOs: the accountability mechanisms in practice and implications towards stakeholders?" (thesis director: Professor Raul Barroso), and Mélanie Sotty & Viktoria Gunnarsson for their thesis on "How can companies create social value in their ecosystem?" (thesis director: Professor Loïc Plé).
The ICOR Award ceremony took place during a conference/round table in Paris, moderated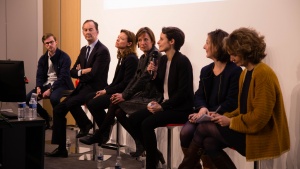 by Goeffrey Mantel, President of the IÉSEG Enactus Association, about the key factors for companies to create social impact. The following experts participated in the round table conference:
Isabelle Anton
Joséphine Biernacki
Nicolas Delnatte, Director for Collaborative Development & Social/Environnemental Responsibility – Caisse d'Epargne Hauts de France
Charlotte Migne, Group Sustainable Development Director –FM Logistic
Céline Sannié, Operations Manager, Enactus France
Julie Bayle-Cordier, IÉSEG Professor and ICOR member.
This was the opportunity for participants to share their respective experiences, challenges and vision related to CSR with the audience.
The School also proposed a series of CSR-related workshops prior the conference. These included: smoothie bicycles, activities related to the ecological footprint and the impact of different behaviors on the environment, a quiz about sustainable development, and the "Idea Wall", where participants could propose CSR and sustainable development-related ideas for IÉSEG, etc.